Es la segunda misión de la campaña y la vigesimosexta en general.
Misión previa: Arsenal. Misión posterior: 
Se logra un plan de infiltración, defensa y amenaza para poder conseguir un alto al fuego y para la guerra.
Primero, algunos hombres eliminan a varios guardias a las afueras de la base, despues el camión logra acercarse con los soldados y las armas de la misión anterior, luego, registran los cadaveres y se disponen a m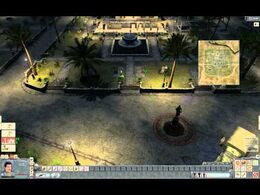 atar a los guardias usando preferiblemente los Cuchillos, para no alarmar a los enemigos.
Despues de esto, los hombres se infiltraron por la parte trasera y lograron acabar con la mayoria de guardias dentro de la base, sin hacer ruido, pero antes de capturar al admirante, deberan preparar la base para el contraataque, cuyo objetivo es rescatar al admirante y eliminar todo riego posible a este, de lo contrario, deberan tener un alto al fuego.
Curiosidades
Edit
El camión de armas de la misión arsenal, hace su aparición, con todo lo que el comandante eligio para esta misión .
Ad blocker interference detected!
Wikia is a free-to-use site that makes money from advertising. We have a modified experience for viewers using ad blockers

Wikia is not accessible if you've made further modifications. Remove the custom ad blocker rule(s) and the page will load as expected.