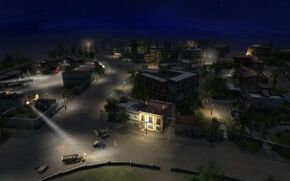 Aqui, un pelotón dirigido por el Cabo Robinson, tomaran las armas de un arsenal y eliminaran todo el riego posible que amenaze el exito.
El pelotón del cabo robinson, divisa la ciudad a lo lejos, y centenares de guardias, pues la ciudad esta en estado de emergencia, lo que dificultara el exito de la misión, y como primer objetivo, deberán ir a la torre central para reunirse con otro contacto.
Primero, cruzaron el rio, y esperaron el cambio de guardias para infiltrarse en la ciudad, despúes de esto, un convoy, con vehiculos, personal, y varios camiones cisternas, hacen su breve aparición, pero este convoy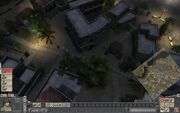 se abre paso dejando la base, retrasando un poco la misión, sin embargo logran llegar y matar a un par de guardias que se cruzaron en su camino. Una vez recivida la información del contacto, se dan cuenta de que pueden entrar alli por la parte trasera y dirigirse al arsenal y cojer las armas.
Una vez en el arsenal, procedieron a eliminar a todo el personal que amenazara la misión, esto les llevo tiempo, y a la vez fue un pequeño 
Ad blocker interference detected!
Wikia is a free-to-use site that makes money from advertising. We have a modified experience for viewers using ad blockers

Wikia is not accessible if you've made further modifications. Remove the custom ad blocker rule(s) and the page will load as expected.