La Colt 45 o M1911 es una pustola semiautomatica, la estandar de los Estados Unidos desde el año 1911 (hace referencia a su segundo nombre).Esta pistola fue creada debido a que el ejercito estadounidense estaba mal equipado, con pistolas que tenian un mal funcionamiento, desde ese momento, todo el ejercito tuvo que volver a emplear a usar los revolveres de calibre, pero dos años más tarde la armada y el cuerpo de la marina  empezo a usarlos.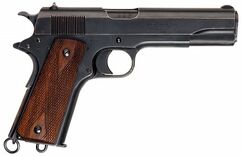 Caracterizticas
Edit
Nacionalidad : Estados Unidos.
Creador : John Moses Browning.
Calibre : 11,43 mm - 10 mm - 9 mm - 5,5 mm
Capacidad : 7 cartuchos (Extraibles)
Tipo : Pistola semiautomatica.
Curiosidades
Edit
En el juego solo se menciona que el arma es una Colt 45, pero debido a las coincidencias en el juego y en la historia, se dedujo que la usada en el juego era una M1911.
Ad blocker interference detected!
Wikia is a free-to-use site that makes money from advertising. We have a modified experience for viewers using ad blockers

Wikia is not accessible if you've made further modifications. Remove the custom ad blocker rule(s) and the page will load as expected.