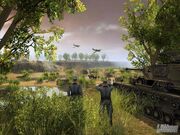 Caracterización
Edit
Los oficiales son las unidades mas experimentadas de todo el juego, y apesar de estar armados unicamente con una pistola, binoculos y un cuchillo, pueden utilizar con facilidad cualquier arma, nada es demasiado para ellos.
(English)
Edit
Characterization Edit
The officers are the most experienced units in the game, and despite being armed only with a gun, binoculars and a knife, they can easily use any weapon, nothing is too much for them.
Inventario
Edit
4x Flares.
Municíon de subfusil.
Curiosidades
Edit
Son las unicas unidades que manejan a la perfección mas de un arma diferente ( es decir que poseen mas tres o dos estrellas dependiendo del arma que utilizen).