Terry Palmer
Status:
Alive
Birthplace:
Pennsylvania,
United States of America
Nationality:
American
Games:
Men of War
Appearances:
1 game
First game:
Men of War
Last game:
Men of War
Private Terry Palmer is a soldier from Pennsylvania who was journalist before deciding to join the United States Military. He served during World War II.
Biografia
Edit
Journalist career
Edit
Before joining the United States Military, Terry was a journalist.
Servicio milita
Edit
Captura del arsenal
Edit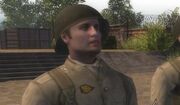 El 8 de noviembre de 1942 en Argelia, África del Norte, al comienzo de la Operación Antorcha, Terry y el equipo trabajó con fueron asignados para encontrarse con su contacto y luego proceder a infiltrarse en un almacén alemán surtido completo de armas, el , usaba de arma personal una welrod silenciada, la cual fue de bastante ayuda para abrirse paso a la vieja torre.
Después de que el equipo logró su paso a la cita, se les dio instrucciones en cuanto a la captura de las armas de un arsenal. Después de haber logrado llegar a la bodega y despejando el camino, iban a levantar la bandera americana.
Privado Palmer y su equipo logró llegar a la bodega y se asegura que la llegada de sus aliados, con el equipo levantando la bandera de Estados Unidos para señalar el área segura para su llegada.
Palmer y su equipo debían entonces y eran capaces de defenderse de los ataques del enemigo hasta que un camión estaba cargado con las armas. Palmer y su equipo luego escapó con sus aliados, logrando asegurar el camión con una gran cantidad de armas.
Behind the Scenes
Edit
Appearances
Edit
Game appearances

Men of War

Men of War: Red Tide
Men of War: Assault Squad
Men of War: Vietnam
Men of War: Condemned Heroes
Curiosidades
Edit
Although Terry is stated to be a Private, his rank insignia is erroneously given as a First Sergeant.
El es la mano derecha del cabo  a pesar de ser un novato.
La primer arma que uso fue una welrod silenciada.
Ad blocker interference detected!
Wikia is a free-to-use site that makes money from advertising. We have a modified experience for viewers using ad blockers

Wikia is not accessible if you've made further modifications. Remove the custom ad blocker rule(s) and the page will load as expected.